I love stuff.  All kinds of stuff.  Photo gear and books and comics and toys and movies and gadgets and art and. . . . stuff. Here are some things that I think are awesome, and that might fill that void for someone special in your life this Christmas.  Oh boy, here we go!
 

•

SID'S AWESOMESAUCE 2013

CHRISTMAS

GIFT GUIDE

•
• PHOTO GEAR • BOOKS • GADGETS • REFRENCE •
Hoodman Hood Loupe - I would go so far to say that if you shoot outside in bright conditions, this is an absolute necessity for you.  I've had one of these suckers for years and years now (and actually need a new one because the one I had finally fell apart after about five years of usage) and if you are shooting anything in bright conditions, not having this can make or break a shoot.  It's that important.  This little sucker goes over your rear LCD screen so you can block out daylight and get a nice, crisp, detailed screen with no light intrusions.  Absolutely critical when using your LCD to gauge exposure.  The Hoodman brand are the most expensive, but also the first ones to make one of these Loupes.  There are other knockoff brands at cheaper prices, but I don't have any experience with them.  Prices range from $79.99 for the Hoodman brand to around $25 for the knock offs.  Sizes cover most 3" and 3.2" sized screens.
Hoodman H-LPP3 HoodLoupe 3.0 Professional 3-Inch Screen Loupe
other loupes available:
Gregory Heisler: 50 Portraits - I love Greg Heisler.  I love his bow ties.  I love the way he talks and relates photography to people.  I love his personality and his relationship to his portrait subjects.  I own this book not because of the images contained inside (although there are some very beautiful portraits in this collection), but for his writing and very casual way of explaining what his thought process was while taking each photograph.  I run across innumerable photographers who want to know how things were lit; how far the light was from the subject, what kind of soft box or light stand was used?  What was the camera?  The camera settings?  But they never think to ask "what were you thinking when making this portrait?"  Greg explains about the 50 images in this portfolio.  A gorgeous book, a fantastic read.  And an absolute steal at around $24 bucks for the hardcover.  Get this now.
Gregory Heisler: 50 Portraits: Stories and Techniques from a Photographer's Photographer
Zack Arias: Photography Q&A -  I'm a fan of Zack's straight-forward, tell-it-like-it-is approach of sharing information.  He doesn't candy-coat things.  If something is hard and difficult, he'll say it right to your face.  I think more people need to hear about the realities of trying to be your own business and the difficulty that comes with that.  It isn't easy, and Zack likes to remind people that.  Keeps them grounded.  This book, taken from his very popular Q&A Blog, plucks 100 of the best questions and expands on them both with more written content and visual examples.  A good, in-your-face guide that you can grab and read all at once, or one question a day.  You can find the paperback for around $18 bucks.  Good stuff.  Check it out.
Photography Q&A: Real Questions. Real Answers. (Voices That Matter)
David DuChemin; Visionmongers: Making a Life and Living in Photography - This book is gorgeous.  I always recommend this book to anyone that asks my advice about books, or photography, or entertaining the idea of putting their shingle out as a working photographer.  Hell, the first few chapters try to actually convince you to NOT be a photographer because it's hard; you need motivation and dedication and hustle and all that other stuff.  This should really be handed out to every photographer there is because I believe some of this information is that dammed good.  This book sort of grabs you by the shoulders and gives you a good firm shake while saying "This stuff is really hard and I don't think you realize how hard it can be!".  Get the paperback.  Read it a few dozen times.  This is some good information.  
VisionMongers: Making a Life and a Living in Photography
•

DVD

•

BLU-RAY

•

MOVIES

•
James Nachtwey: War Photographer - An absolutely riviting documentary about one of our most dedicated and incredible war photo journalists.  A very interesting, solemn, often cut-off individual who puts himself in the line of fire to capture truly amazing and moving photographs.  If you sling a camera, you need to see this
War Photographer
Born Into Brothels - An amazing documentary about the power of photography, creativity and the will to survive.
Born into Brothels
Akira -  2013 marks the 25th year anniversary of this seminal anime that basically ushered in the popularity and exposure of current Japanese animation.  I was 13 when I bought an nth-generation bootleg of this at a comic book convention before it came out in the United States, and it completely changed the way I viewed animated movies.  This new release collects all the english dubs (including the original which hasn't been heard since the original 1989 release) and features incredible sound mix.  I put this here because of it's historical significance and personal significance.  Warning: not really for children
Akira: 25th Anniversary Edition (Blu-ray/DVD Combo)
Amelie - One of my favorite movies of all time.  A cinematic valentine to love, cinema, art direction, and stories about happiness.  Visually arresting.  They hardly make movies as lovely and charming as Amelie any more.  This is visual candy at its finest.  Available on blu-ray and dvd.
Amélie [Blu-ray]
Amelie [DVD]
•

COMICS

•

GRAPHIC NOVELS

•
Mouse Guard: Fall 1152 - I love Mouse Guard.  David Petersen's series is set in a world of sentient mice who live in a medieval era, paralleling the same age in human history, though in their world there are no humans.  It is gorgeously illustrated.  It's just an absolute joy to read.
Mouse Guard : Fall 1152
After reading Fall 1152, pick up Mouse Guard: Winter 1152
The Walking Dead - I'm a big Walking Dead fan, but moreso of the comics than the television series.  While I usually pick up the 6-issue trade paper backs, the Compendium's squash almost 50 issues into one volume.  For those just getting into the series, pick up Compendium 1, which contains issues 1-48.  Great way to introduce the series to you.  Fantastic weekend read.  Less about zombies, and more about how people interact with one another in dire situations.
The Walking Dead: Compendium One
then pick up The Walking Dead: Compendium Two
 which covers issues 49-96.
•

Toys

•

Gadgets

•

Video Games

•
Firefly/Serenity USB Drive from Incubot Productions - This is awesome.  For all you Browncoats out there, Incubot, who makes some really kick-ass USB drive collectibles obtained the license from Fox to make Firefly/Serenity metal USB drives.  I actually know the guys at Incubot and I'm kinda officially on the Incubot team, so it makes me uber-happy to be part of this project.  Pre-orders are being taken this minute and if you place your order before the end of 2013 you can get one of these gorgeous metal usb drives for only $40.00 shipped.  This is awesome.  If you are a Firefly/Serenity fan, you OWE it to yourself to pick one or twelve of these up.  I'm really excited to get my hands on one of these.  Firefly fans keep taking the shaft by Fox all the time.  This is the perfect way to gang up and support underdogs like Incubot to bring ass-kicking stuff to the masses.
Incubot Firefly • Serenity USB Drive order page
Grendizer USB Drive from Incubot Productions - Before the Firefly/Serenity project came to life Incubot brought another fully licensed product to market based on one of my favorite early 1980's Japanese animated shows:  Grendizer.  This product reached a successful Kickstarter campaign and came out last year.  This USB drive is both the robot and his flying saucer which also doubles as a USB hub that plugs into your computer.  Seriously awesome.  Comes with a gorgeous retro-style custom box.  Incubot really pours time and love into these USB drives based on awesome robots and sci-fi stuff.  Definitely pick some of these up.  They are amazeballs.
Legend of Zelda: Link Between Two Worlds - I am a huge video game nut.  I used to obsessively play and collect in my teens and 20's.  I still love to play but I only play a few choice titles per year now a days.  I was a huge fan of the Super Nintendo Legend of Zelda: A Link to the Past, and now almost twenty years later, we get a sequel set in the Link to the Past world.  I'm late to the Nintendo 3DS party, but this game is absolutely amazing, and the 3D effect is incredible.  This is a top-down style game, just like the old NES and SNES games, but updated.  Truly a beautiful thing to behold, and plays silky smooth.  If you are a Zelda nut and haven't picked this up yet, you are missing out on quite possibly the greatest Zelda game since the NES/SNES days.  Absolutely required playing.
The Legend of Zelda: A Link Between Worlds
Or pick up the uber-edition Nintendo 3DS XL Gold/Black - Limited Edition Bundle with The Legend of Zelda: A Link Between Worlds
 Crazy!
Animal Crossing: New Leaf - This is quite possibly the most addicting game I have ever played.  I got hooked on Animal Crossing when it originally came out for the Nintendo Gamecube, and each version of the game sucks me in for hours and hours each day.  This is the ultimate time wasting game.  It will steal hours of your life each day if you let it.  The best way to explain Animal Crossing for those unfamiliar is that it is like the PC game "The SIMS" only you manage the day-to-day life of little animals that live in a small town.  Grow fruits, fish, upgrade your house, find, trade, buy furniture and rearrange your ever-growing home, dig for treasure; addicting little tasks that don't sound like much but all of this micro-management will eat your free time.  This game is crack.  Be warned.  
Animal Crossing: New Leaf
•

Artwork

•

Artists

•

Prints

•

Editions

•
Relentlessly Cheerful: Art by James Hance - James Hance is one of my favorite illustrators.  Originally creating his absolutely adorable "Wookie the Chew" drawings which took the Internet by storm, his artwork has spread across all kinds of popular culture topics from Muppets to Dr. Who to Star Wars to Ghostbusters and beyond.  His prints are available at his website at an INCREDIBLE $15 each.  I seem to never buy less than three when I go to his site, and now I have to buy frames for everything.  His work is amazing.  His prices are a no-brainer.  Go buy his work. It will put a HUGE smile on your face.  Go.  Now.  Become happy.
Relentless Cheerful: Art by James Hance Shop
JAWS/Peanuts mashup print by Charles Forsman - I almost passed out the first time I saw this illustration because of my absolute love for the first JAWS movie.  Charles Forsman creates this "mashup" taking scenes from JAWS and making it into a Peanuts comic strip.  Specific scenes from the movie are turned into PERFECT four panel strips.  I mean, c'mon, Linus as Quint?  Genius:
Genius.  The JAWS prints are $20.  If you are a fan of JAWS or Peanuts or BOTH, buy this.
JAWS/Peanuts mashup print by Charles Forsman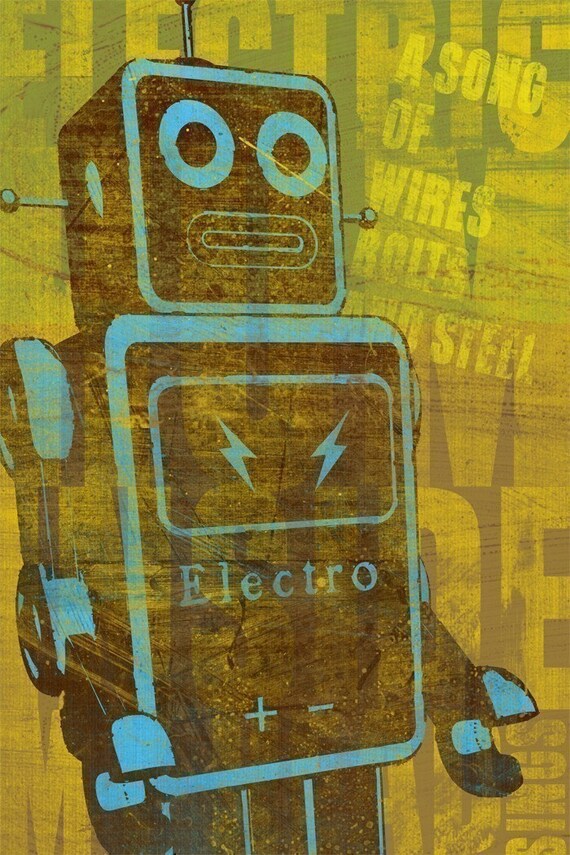 Robot art by John Golden - Sara bought me one of John's prints for Christmas in 2010 and we have it framed and hanging in our living room.  I love his work.  Prints of various robots and lazer guns and sci-fi stuff is available on his Etsy shop.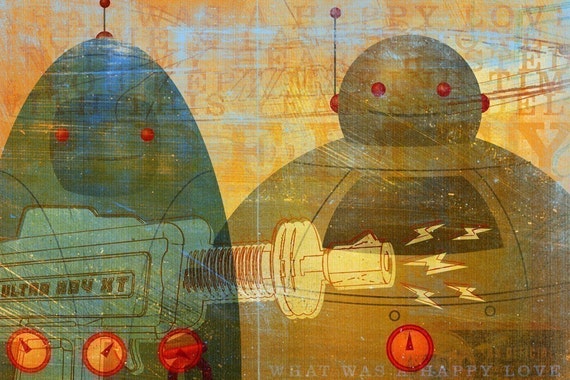 (What Was A Happy Love - the print hanging on our living room wall)
Go get some of John's prints at his Etsy shop.
[flickr id="6808211387" thumbnail="medium" overlay="true" size="medium" group="" align="none"]
Sid Ceaser's "Plastic Erotica" -  Though I don't advertise it much, prints of my toy photography series "Plastic Erotica" are available.  Please contact me for sizes and prices.
Happy Holidays.  Maybe something from this list will spark an idea or make an excellent gift!