On top of my love for music photography and portraits, I also spend a good deal of time working on personal photography projects centered about things that are important to me throughout my life. I've been neglecting my more personal photography work for a while now, and I'm hoping that I can correct that, and reintroduce my personal work to a new audience. There are links available on my fine art website HERE.
My personal photography has largely centered around growing up a geek; comics and toys and cartoons and movies. I was an only kid, and most of growing up centered around me existing in my own head; creating universes and using toys to have epic battles between forces of good and evil. I've never abandoned my passion for toys, and even as I enter my 40's, I'm still love them. They are small physical plastic avatars that help us imagine and allow us to pretend to be someone else. As a kid, I existed with my imagination; running around outside in the woods re-creating scenes from movies, or using toys to embolden me with superpowers.
So it's only fitting that my personal work reflects that.
Shortly before graduating from the New Hampshire Institute of Art, I started what I call my "Portraits" series. Photographs of anime and cartoon action figures. I started the series between my junior and senior year during a summer independent study. That final series of images was shown at NHIA, and through them I became represented by McGowan Fine Art in Concord NH. Sarah Chaffee at McGowan took the prints to the Affordable Art Fair in New York City for a few years where they sold fairly well. I continued to make new images for that series up until about 2010, when I finally considered the series done and I started to move on to other work.
"Kaneda" from the "Portraits" series. 2003
"Tonya" from the "Portraits" series. 2005
In late 2010 I started a new series that stemmed from co-creating a website geared around collecting Japanese anime figures. The site was called "Nuts for Anime Figures*". Site creator and friend Antony Chow wanted to start a website that was centered around collecting and reviewing Japanese figures imported from Japan. Ant would provide in-depth reviews around the figures that he purchased paying very specific attention to details such as stance, molding, painting, quality and more. He would provide his reviews to me and I would photograph the figures focusing on key points of his review. It was a labor of love for the both of us, so there was no income revenue to toss around, but as payment to me, Ant gifted me any of the figures he bought as a form of payment. Any of the figures that I thought I might be able to use for future projects, I could keep. (*Nuts for Anime Figures is no longer active as the site was taken down at the end of 2015.)
Over the years, the figures he was sending me were becoming more "questionable" in content; more suggestive and sexual poses. More of the clothing was becoming removable. It was clear that these figures (toys?) were aimed at a more adult collectors market. Which fascinated me.
I don't photograph nudes. I'm not interested in photographing half-naked models. There are photographers out there that do beautiful work with the nude figure, and there are many more that simply like to get naked females in front of their cameras, but I'm just not interested in that as a subject for my photography.
But what I did become interested in, was these little naked or half-naked toys. It started raising all kinds of questions in my head: who were these marketed towards? Adults? Children? What kind or statements do these poses make? Are we objectifying women by creating small plastic objects trying to create a sexual ideal? Good stuff, I thought, and over a few years, the Plastic Erotica series was created.
"Balance" from the "Plastic Erotica" series. 2011
"Sneakers" from the "Plastic Erotica" series. 2010
In February 2012 I unveiled the Plastic Erotica series with an exhibition at the NKG gallery in Boston, MA.
Postcard design for Plastic Erotica exhibition 2012
Sara helping me hang the exhibit Jan 2012
Post-opening photo Feb 3rd, 2012
As a celebration of Plastic Erotica, I produced a one-time limited edition print of in conjunction with InkPrint Letterpress; a local letter press company. Twenty-five 8x10" prints were printed here in my photography studio and each of those 25 prints has the Plastic Erotica logo stamped into the center of the print. Each print is signed and numbered. InkPrint Letterpress is no longer in business, so this is the only batch of these that exist. Once they are gone, they are gone.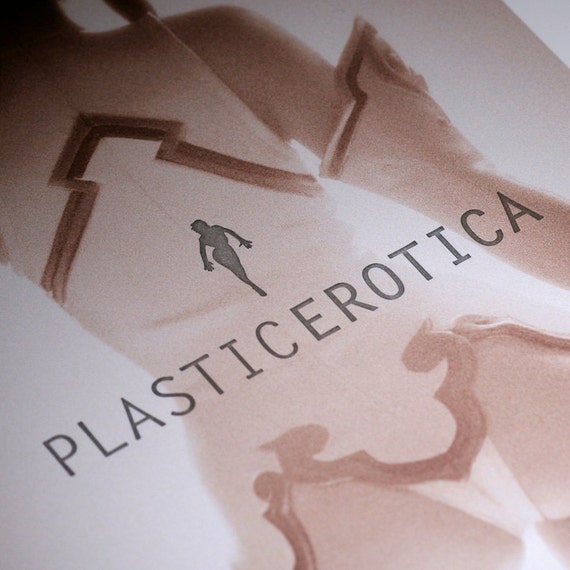 Plastic Erotica limited letterpress print (detail) 2012
I never really put the time into the Plastic Erotica series, and after the exhibit (and soon after that the closure of NKG Gallery), I lost the momentum and the series sort of fizzled out. To this day it bothers me, because I really think the series is strong and creates interesting discussion to those that have seen it, and I'm hoping I can jumpstart the series again and start trying to find a new audience for it. Which is one of the reasons why I'm making this blog post - to tell you about it.
After the Plastic Erotica series, I started spending more time focusing on my commercial photography. I've still been working on personal work, but haven't really started a new "series".
In 2013 I did a quick series called "The Cam Fam" - turning some of the cameras I have here in my studio into characters:
Professor Hasselblad from the "Cam Fam" series 2013
Dr. Toyo from the "Cam Fam" series 2013
And I still photograph new toys as I purchase them:
Figure from "Bubblegum Crisis" acquired for Nuts for Anime Figures review 2008
Daft Punk figures Personal toy collection 2014
Recently, I started collecting figures from ThreeA (3A). These 1/6th scale dolls/figures are based on the character designs of comic artist Ashley Wood, and they are amazing. I've been doing longer photo sets with them usually containing more than a few images, but they are amazingly photogenic and I love photographing them, especially the Blind Cowboy.
The Blind CowboyThreeA/3A toys 2015
I am currently working on a new series tentatively titled "Adventure Portraits"- portraits of figures from a 1970's line called "Adventure People". Here is a sneak-peek:
Adventure Portraits 2015/2016
Last month I re-designed my Fine Art photography website to be the sister to my commercial photography site; adopting the same custom template that Dave Seah designed for me and updating it after it being stagnant for a number of years.
While setting everything up and revisiting these images that I do love very much, I also set up a few online retail spots so that I could unlimited edition prints of some of my favorite images starting at around $20 for an 8x10" print. I've been selling my "Portraits" series through McGowan Fine Art since 2003. I've been asked in the past about smaller, lower priced non-edition prints based on some of my more recent random toy photographs, and so I'm making those accessible through my Society6 page. Starting at $20.xx, you can now purchase quality prints in sizes of 8x10" of images from my Plastic Erotica series, my Cam Fam series, and other toy images, including the Tomorrow Kings and Blind Cowboy images and more. I've also uploaded a few non-toy photographs because while people, and toys that look like people, are my main subjects, I do still like the occasional still life or something else.
I've purchased artwork from artists I admire around the $20 mark, and it's a great way to collect artwork from artists who otherwise I might not be able to afford their prices.
Here are some links to where you can purchase some of my work:
Society6: more recent toy photography

McGowan Fine Art: my Portraits series

Etsy: limited edition signed/numbered Plastic Erotica Letterpress print (one time edition of 25)
As I go through my life trying to make a career out of photography, I tend to get pulled in many directions; sometimes my more personal work takes a backseat to more commercial photography, and because I've backed off from trying to market and show my personal work, at times I feel like spending any time on personal work won't be rewarding in a financial sense. And because I'm trying to make a living off of being creative, I spend a good deal of time being torn between the two. But it doesn't have to be that way. I love photography. I'm a good photographer regardless what is in front of my camera; real-life people, or little plastic articulated sculptures that look like real people.
If you have any questions or comments, feel free to leave them in the comments section below. I'd love to keep a discussion open.
Cheers, Sid