THE PORTABLE PORTRAIT WORKSHOP
Workshop cost: ___
Get your flash off camera. Learn how to expand your creative options for location portrait lighting - Simple ways to make dynamic portraits with affordable lighting gear. This low number workshop is a hands-on learning experience that will put you directly in front of a model and start your ability to photograph on location.
I've been teaching photographers looking to expand their options and harness the ability to craft an image with light since 2008.
A HANDS-ON WORKSHOP.
The workshop is capped at 8 attendees giving each student time to work with a model and get the feel of how off camera portrait lighting works. It allows the instructor to spend time with each individual while shooting.
This is a turn-by-turn workshop, giving each student a chance to photograph the subject without interruption.
Students will be using ALL MANUAL with our flashes and camera settings. We want to manually control our flashes so we can get consistent results from image to image.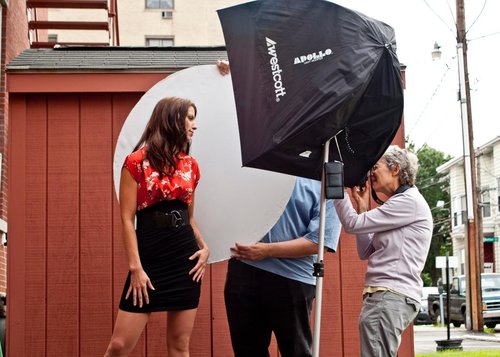 WORKSHOP SPECIFICS:
What you need to know before the workshop:
• The fundamentals of photography
• Your apertures, shutter speeds, and what they do.
• Familiar with ISO and your manual controls on your digital SLR camera.
• Be able to shoot in RAW mode so that you can take capture files home and work on your images in post-production.
YOU SHOULD COME TO THE WORKSHOP WITH THE FOLLOWING:
• Digital SLR camera with a hot shoe and manual settings (the ability to manually set your aperture, shutter speed, ISO, etc) and the ability to shoot RAW files
• A lens for your camera. Any focal length is fine, but wider lenses will help us use our surroundings as part of our compositions.
• Memory card
• Positive attitude :)
HOW THE WORKSHOP WORKS:
First we'll start with a technical refresher; apertures, ISO, shutter speeds and how we control them. We'll discuss flash power and manual flash settings.
Then we'll move outside and start shooting. We will have a subject to shoot, and I'll explain how to get the shot set up. Then, one by one, we'll each take turns shooting. We'll change our camera settings, we'll change our flash power, we'll change our exposure settings - all so you can get a good idea of what you are doing as you are doing it.

We will change locations to vary the looks and images.
2019 WORKSHOP DATES: TBD
PRIOR WORKSHOP:
STAR ISLAND RETREAT
Isle of Shoals
SEPT 7th through 10th, 2017
I have been invited by the New Hampshire Society of Photographic Artists to be the guest photographer for the 2017 Star Island Retreat on the Isle of Shoals from September 7-10th. This will be a condensed, shorter workshop, but at a fantastic 4 day photographic retreat with other photographers. For more information, visit the NH Society's website or contact me via email and I can send you more information.
FEEDBACK FROM PAST WORKSHOP STUDENTS
"You relay a good deal of practical information, make us think about the theory while out shooting, are very amendable to developing each photographer's creativity, and are all around easy to get along with" - John Hauschildt
"This workshop has taught me that I can make very creative and unique-looking portraits using a minimal amount of equipment. We were able to make some great-looking, creative shots pretty much anywhere!" - Dave Pattelena
"I learned a great deal and never thought about using flash outdoors like you have taught" - Tom Briere
"Definitely a good base to build on as I move more towards the portrait end of this incredible world we live in" - Arcy Kusari
"My camera is like an Audi R8 (my fantasy car): sits in the garage, I get intimidated driving it. Well, no longer will my camera sit in it's bag and intimidate me! In one workshop, I am much more comfortable with just using the manual settings (as I had with film 35 mm), and reviewing shots" - Susan Krasner
"I've been to a lot of photo classes and this was without a doubt the best" - James Flemming
WORKSHOP COST:
To reserve your spot in one of the workshops, the full price of $XXX is required to secure your spot. Your deposit can be paid by Check (personal or business), PayPal, Cash or Credit Card (all major cards). Registration is handled on a first-come, first-served basis. Credit cards processed via Square, or online thru Paypal. When registering, please MAKE SURE to include the workshop date.
Checks: can be made out & mailed to Sid Ceaser Photography | 3 Pine Street | Studio 2D | Nashua NH 03060
PayPal: send payment to: paypal.me/sidceaser
Refund Policy:
Please note: Workshop registration costs are NON-REFUNDABLE. You will receive credit for the full amount you have paid to be applied to any future workshop providing that workshop is not already filled. This is for workshop booking reasons, for costs being associated with running the workshop.
PRIVATE INSTRUCTION/MENTORING:
Private, one-on-one workshops and mentorships are also available for those looking for more long-term quality instruction. Please email for more information.
Want to bring the Portable Portrait workshop to your town/college/camera club/institute/private group? Please email to discuss!
For more information or if you have questions, please email Sid Ceaser.